Minister Manickchand meets with Environmental Scientists with interest in Guyana- at Lesley University
Wednesday, October 20 2010 @ 11:01 pm UTC
Contributed by: Mike
Views: 7,553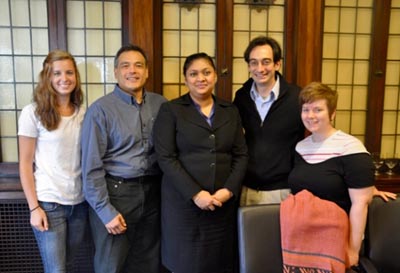 Pictured: Minister Manickchand poses with scientists David Morimoto and Mike Schindlinger and students from Lesley University.
Published: October 17, 2010
Minister of Human Services and Social Security Priya Manickchand met with Lesley University professors David Morimoto and Mike Schindlinger who are biologists at the institution working toward conservation of tropical forests through education, eco-tourism, and by building social infrastructure among people and institutions with common goals.
They both serve on the Board of Directors of Foster Parrots and the New England Exotic Wildlife Sanctuary, which provided the seed money and technical training to build the eco lodge at Nappi Village (Rupununi), now recognized as one of Guyana's premier places to encounter wildlife according to the Bradt guide. The eco-lodge now plays a pivotal role in supporting the village's ability to create non-extractive income streams from tourism. They have also been working with Rewa, to provide developmental assistance with the recently-built eco-lodge there, including cameras, video-editing computers, solar panels, field books and binoculars.Morimoto, who received his PhD from Boston University, and Schindlinger, who received his from Harvard, also lead Lesley students to Guyana each year in a course entitled "Field Experiences in Tropical Ecology", as a way of increasing students' global awareness of issues in biodiversity, development, and human ecology across cultures. Of fourteen students who have taken this course in 2009-10, two have already returned to Guyana to pursue longer post-graduate science education activities.
Also in development is a three-course undergraduate semester in Guyana, designed as a "fair trade" education, where students will acquire local knowledge, and give back through English language teaching, using environmental themes, for their host families and interested villagers, including local educators. More information about this programme is available at
guyana.freeparrots.org
One of the students who participated in this programme in 2009, Casey Grenier, subsequently created a blog of photos featuring the beauty of Guyana (
guyanagrenier.wordpress.com
). She shared this blog with Minister Manickchand during the Minister's meeting with the scientists.
from:
www.camanabaytimes.com
/